Psychological damage

The scars of war in Afghanistan were not limited to physical destruction. Psychological damage of war on Afghan's young generation is also considerable. Unfortunately, children are among the main victims. As we know children are very vulnerable and dependent. They are developing not only physically but mentality and emotionally. The sudden and violent onset of emergencies, the disruption of families and community structures deeply affect the physical and psychological wellbeing of children. These impacts include withdrawal from social contact and activities such as playing, laughing, and expressing emotions. The damage is translated into sadness, feeling of guilt, aggression, sleeping difficulties, nightmares and so on.
Unfortunately Afghan children are deeply affected by psychological impacts of years war. Some Afghan families describe their children as aggressive and intolerant towards each other which is considered a direct impact of war on Afghan Children because they grew up in years of fighting, bombing, shooting that emotionally damaged them and their innocence.
Afghan young generations have been deeply influenced by two decades of war. Most of them cannot read or write a simple sentence, while on the other hand those same children can easily use sophisticated weapons. This impact can be realized through the simple choice of instruments such as weapon tanks and bomb in the form of playing toy.
The severe psychological wounds that long years of war inflicted on Afghan children and young generations can and is scaring them for life. Therefore, it's very important that Afghan education authorities assign psychologists in Afghan schools to help those children recover from long living nightmares.
These pictures describe very well the psychological impacts of war on Afghan children and young generations.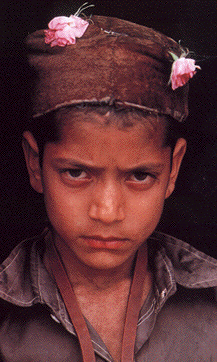 The Children of Kabul research project